Wakayama International Exchange Association
The Wakayama International Exchange Association has been designated to perform the administrative operation of this center.。

Message from Chairman of the Board of Directors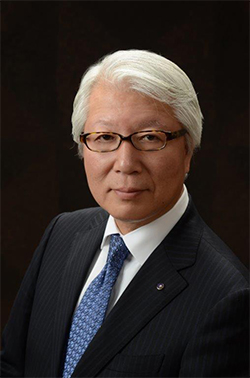 The Wakayama International Exchange Association was established on November 15, 1990 with the objective of helping bring about peace and growth to international society by promoting international exchange and cooperation activities in Wakayama Prefecture, providing support to foreigners living in Wakayama Prefecture, and carrying out various other activities to create an open community for everybody, transcending language, race and borders.
 Since the establishment of the Association, the Governor of Wakayama had successively served as the Chairman of the Board of Directors; however, when the Association was entrusted with operation of the Wakayama International Exchange Center as the designated management organization on April 1, 2006, to enhance the Center's ability to respond at the grassroots level and in local residents' daily lives, as a private citizen, I assumed the weighty responsibility of Chairman of the Board of Directors.
 Since then, as the only local association for internationalization in Wakayama Prefecture, and as an internationalization support organization (public incorporated foundation), the Association has been engaged in planning and operating various projects for promoting international exchange in Wakayama Prefecture, fostering and supporting international exchange volunteers, and providing support to foreigners and overseas emigrants, such as the provision of consultation services and living information in multiple languages.
 Recently, the number of foreign visitors and resident foreign nationals has been clearly increasing in Wakayama Prefecture. In response to this, we will make efforts to promote cooperation with companies and improve a one-stop comprehensive consultation function for harmonious coexistence of different cultures so that we can provide support to organizations and groups engaged in various activities in and foreign visitors to Wakayama Prefecture.
 The Association will mark the 30th anniversary of its founding in November 2020. Based on our past experience and social mission, we will do our best to make a better future. We would like to ask for your continued encouragement and support.
Naohisa Kashihata
Chairman of the Board of Directors
Wakayama International Exchange Association
Supporting member application
・Supporting member information
・Supporting member application